Main specifications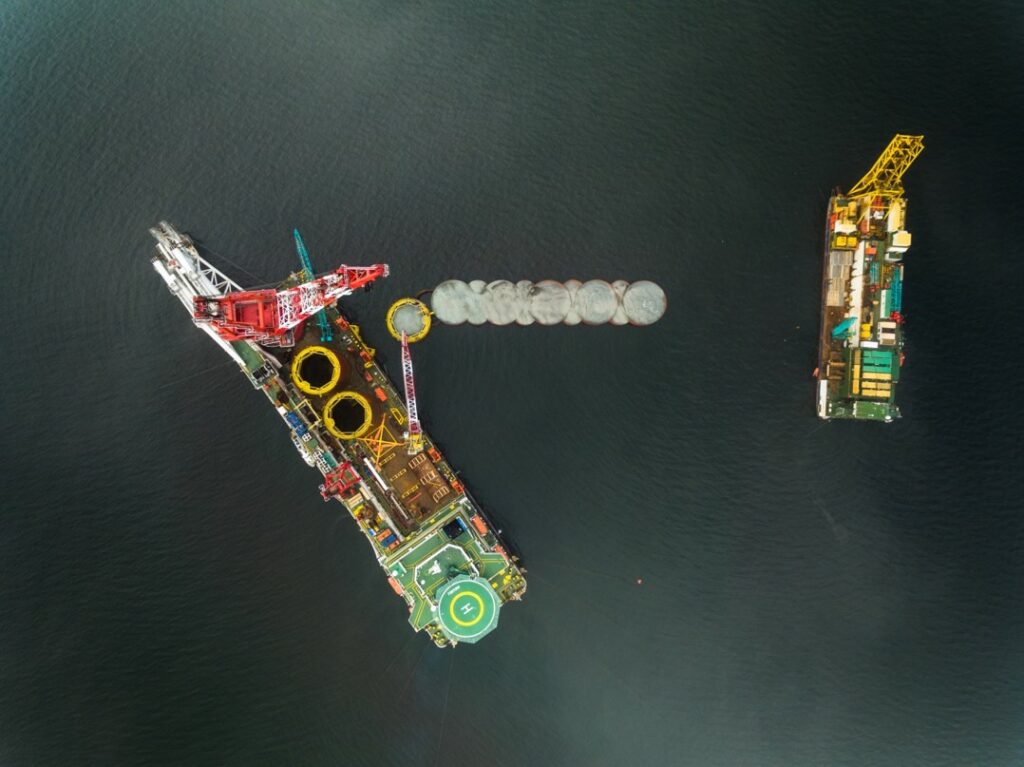 Breakwater
600m long x 26m wide
Jetty
100m long x 40m wide
Submarine pipeline
5km long, 21"
Submarine cables
5km long, 4 cables
Summary
Breakwater
The berth is protected from waves with a robust 728-meter C-shaped breakwater. The breakwater has a complex structure, with 29 metal caissons (20 meters in diameter, 21 meters in height, and weighing over 200 tons each) placed along the full length of the stone foundation that rests on the seabed. The caissons are filled with rubble and their outer surface has an anticorrosion polymer coating. From the seaward, the caissons are protected by a mound of rocks (weighing up to 6 tons each) and more than 20,000 special reinforced concrete blocks (tetrapods weighing from 7.8 to 25 tons).
The steelcaissons were fabricated in the MRTS yard in Archangelsk and then transported by barge to the site. One by one the 300 MT heavy caissons were lifted and installed on a previously prepared gravel bed. Subsequently, the 29 caissons were filled with gravel for stability and capped with a concrete beam.
To protect the caissons from wave action, rock and Tetrapods were installed by placing them on a filter and scour protection layer.
Jetty
The jetty is a 125.5-meter monolithic slab of high-strength concrete resting on 177 piles. Special equipment for receiving gas is installed on top of the slab along with mooring devices.
Submarine Pipeline
Liquefied gas is converted to gaseous form and fed into the existing gas transmission system via a newly-built 13-kilometer connecting gas pipeline. The submarine section of this pipeline is 5 kilometers long.
Construction of the terminal for the first FSRU in Russia
On January 8, 2019, an offshore gas receiving terminal and a floating storage and regasification unit (FSRU) called Marshal Vasilevskiy were put into operation in the Kaliningrad Region. Thanks to the terminal and the FSRU, up to 3.7 billion cubic meters of gas can be delivered by sea on an annual basis. If necessary, the new facilities will meet the current and future needs of the Kaliningrad Region.

A key component of the terminal is a fixed marine berth with a breakwater. This facility is unique as far as domestic engineering practices are concerned. It is located 5 kilometers from the shore, where the sea is about 19 meters deep, which allows the floating storage and regasification unit (FSRU) to be moored. This berth was designed so as to help the vessel operate safely and to withstand severe storms.
Marshal Vasilevskiy is the only FSRU in Russia. The vessel transports LNG (174,000 cubic meters of reservoir capacity) and performs regasification operations, converting LNG to gaseous form. The FSRU has three regasification lines (including one backup line).